Somers Point's Favorite Family Friendly Restaurant & Bar
Delivery Services Coming Soon



Clancy's Restaurant in Somers Point
Clancy's By the Bay in Somers Point, NJ is a full service bar and family friendly restaurant.
We have live bands on the weekends and great happy hour specials throughout the week.
Somers Point Hours of Operation
Monday – Sunday: 2:00 pm – 10:00 pm
Clancy's By The Bay Hours Are Limited Due To COVID-19.
Please Call For Reservations & Availability.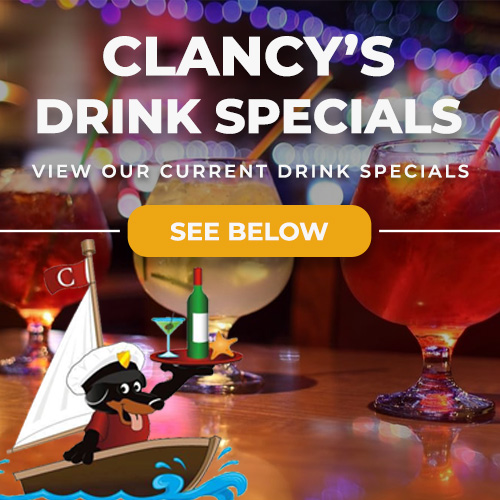 DRINK SPECIALS
MARTINI SPECIALS
FRESH CUCUMBER MARTINI
Cucumber Vodka, Lime Juice, Simple Syrup, Fresh Cucumber and Mint  8.5
KEY LIME MARTINI
Stoli Vanila, Liquor 43, Lime Juice,  Pineapple Juice, Whipped Cream, in a Graham Cracker rimmed Martini Glass  8.5
ITALIAN WATER ICE MARTINI
Three Olives Citrus, Blackhaus, Lemonade  8.5
MOJiTOS
TRADITIONAL MOJITO
Bacardi Rum, Fresh Lime, Mint Leaf, Sugar, Splash of Soda  7.
STRAWBERRY MOJITO
Bacardi Rum, Fresh Strawberries, Mint Leaf, Sugar, Splash of Soda  7.
SPICED CHERRY MOJITO
Bacardi Oakheart, Cherry Vodka, Fresh Lime, Mint Leaf, Cherries, Splash of Soda  7.
COCKTAIL SPECIALS
STRAWBERRY LEMONADE
Stoli Strawberry, Strawberry Liqueur, Lemonade  6.
CHERRY SODA
Three Olives Cherry Vodka, Cream Soda, Splash of Cherry Juice  6.
LEMON FRESH
Bacardi Limon, Apple Pucker, Triple Sec, 7-Up, Lime  6.
SLICE OF HEAVEN
Captain Morgan Spiced Rum, Grenadine, Banana Liqueur, Pineapple Juice  6.
*CLANCY'S SUMMER SANGRIA*
White Wine, Brandy, Triple Sec, Fresh Fruit  $7.5
CRAFT BOTTLE BEERS
HARD SELTZER 6.50
5% Spiked with Sparkling Water, Truly Assorted Flavors, or White Claw Assorted Flavors
SAM ADAMS 76 6.25
MA 4.7% Lager & Ale. Light bodied, refreshing crispiness. Tropical Citrus aroma, juicy Citrus Hop flavor without the Hop bitterness.
BLUE MOON BELGIAN WHITE 5.75
CO, 5.4% Wheat Ale. Belgian style Wheat Ale brewed with Valencia orange peel for a subtle sweetness and bright Citrus aroma.
FLYING FISH HOPFISH 7.00
NJ, 6.2%  IPA. Classic IPA with a balance of Hops and subtle sweetness of Malts
NEW BELGIUM FAT TIRE 7.50
CO, 5.2% Amber Ale. Easy drinking Amber ale born in Colorado
EVIL GENIUS #ADULTING 7.50
PA, 6.8% IPA. Guava infused IPA, juicy, clean and smooth
TANK 7 7.50
MI, 8.5% Harpoon IPA. Fruity Aromatics with Grapefruit, Hoppy notes and a dry finish
GREAT LAKES EDMUND FITZ 6.00
OH, 5.8% Porter. A complex, roasty Porter with a bittersweet  Chocolate Coffee taste and a bold Hop presence
HARPOON IPA 6.50
MA, 5.9% American IPA. New England style IPA, Piney and Citrus 
LOT #3 6.00
MA, 6.8% IPA. Peach, Grapefruit, Tangerine and fresh Pine Aroma
SIERRA NEVADA PALE ALE 6.50
CA, 5.6% Pale Ale. Pale Ale with bright Citrus and Pine notes
GOOSE ISLAND GREEN LINE PALE ALE 6.50
IL, 5.4% Pale Ale. Hop lover's dream with a fruity aroma and long Hop finish
DOGFISH HEAD 60 MINUTE 6.50
ABU, 6% East Coast Pale Ale. A Pale Ale with flavors of Citrus and Hops
Monday – Thursday: 11:00 am – 2:00 am
Food service until 12:00 am
Friday – Saturday: 11:00 am – 3:00 am
Food service until 1:00 am
Sunday: 11:00 am – 2:00 am
Food service until 12:00 am